The stock market has been driving a lot of sensible people crazy the last several months. And I'm not sure it's done yet. After a great January, there have since been some wild swings up and down. No less than five times the Dow lost 500 or more points in a single trading session, plummeting by more than 1,000 points two of those times. Not to be ignored, the S&P 500 index closed 10% or more below its late January peak, not once, but twice.
And it all happened so fast.
That's bad stuff. I hope, in spite of it, you are and continue to be able to focus on the long-term and not let your emotions take over amid these distressing, dramatic market moves. However, with trade war fears in the air, concerns about inflation, gas prices, rising interest rates, and debate around regulating the best performing sector of the market – the tech sector – you're not the least bit crazy if you're inclined to want to stop investing altogether. While there's a lot of speculation as to what is causing these market hiccups, the reality is we just don't know what it is or what's ahead. In some ways that may feel worse because in so many ways, the economy looks so good. But what I do know is that the market is displaying some regularly-seen patterns, and we can learn something from them.
So then, first, what kind of advice can I give my worried or anxious investors?
The same advice that I often give you: Do nothing but try to stay calm.  If you or I were day-traders, then I'd have other advice.  But that's not the point of this blog, and I find day-trading very dangerous business.
If there's anything the day-by-day gyrations of the market teach us long-term retirement investors, it's that slow and steady wins the race. Investors have long known that staying the course is one of the most important things to do – it's just emotionally hard to do sometimes. Some of the best research on this topic comes from the so-called "Wizard of Wharton" – University of Pennsylvania professor Jeremy Siegel. In his 1997, New York Times best-selling book, Stocks for the Long Run, Siegel looked at the performance of equities from 1802 through 1997 – almost 200 years of investing.
His findings were, I think, astonishing: Despite the kind of day-to-day volatility that we have all been feeling the last few months, the actual long-run returns of stocks are remarkably consistent.
Here's how he summarized his findings: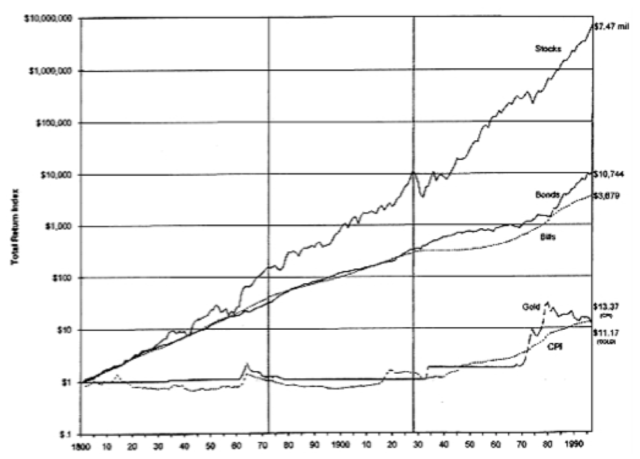 Source: Jeremy Spiegel "Total Return Index," Stocks for the Long Run
What a chart!
Despite extraordinary changes in the economic, social, and political environment in this nation over the past two centuries, stocks have yielded between 6.6 and 7.2 percent per year after inflation, in all major sub-periods (or about 10% before inflation). The wiggles,dips, and bumps on the stock return line represent the bull and bear markets that equities have suffered throughout history. However, the long-term perspective the chart offers should radically change anyone's view of the risk of stocks. The short-term fluctuations in the market, which loom, day-to-day, so large for investors, have little to do with the long-term accumulation of wealth.
Read that last line again.
Prof. Siegel found that almost no matter what period you looked at – the Civil War, World War I, World War II, Presidential assassinations, even the Great Depression (marked by the second black vertical line) – were mere hiccups compared to the overall trend. Stocks delivered about 7%, after inflation.
The pattern Siegel highlights in the history of US stocks repeats itself in other countries, including those that have experienced catastrophic collapses. World War II, for example, sheared 90% off the value of German equities – 90%!!!! – but German stocks completely rebounded by 1958, rising 30% per year on average from 1948 to 1960. German stocks went on from there to new highs. Averaged out over the long haul, their return is a consistent 6.6% annual, a number not far from Siegel's 7%, post inflation, a figure that continues through this day.
The same is true for Japan, the UK, and all other markets that Siegel studied. Overall, everywhere, and all the time, in the short-run, we get volatility, but in the long run, wealth building.
Why, at moments like we've been in for the past three months, we don't hear much about the power of long-term investing – and the truth about the futility of trading – is that long-term investing is, for the financial media at least, boring, unsexy, and cheap. The financial media thrives on encouraging you to panic, and large parts of the financial industry make money only if you do. Big moves sell newspapers, and high trading activity means commissions for online brokers. The only people who don't profit from that activity are investors themselves.
The last three months have not been pretty and it's not been easy doing nothing. It's hard to stare down such a quick and significant market correction that ignores the best corporate earnings in the last seven years and the most significant tax reform in 30.  It's hard in such a climate to stick to your knitting.
When the US government shut down in September 2013 during one of several recent budget showdowns, lots of people panicked. The same was true during the Greek Crisis, Brexit, and the last U.S. presidential election. But people who left the market or who stayed on the sidelines have paid handsomely for missing out on the 35% market rebound following the 2016 election up to the end of January, 2018. Markets, on average, recover from corrections in less than 90 days once they're over, but corrections can, on average, run about three-to-nine months.  Remember, too, that markets rise about 2/3rds of the time and fall only about 1/3rd of the time.  Right now, we're in one of those latter times.
If you invest regularly at work or in your IRA and rebalance your portfolio periodically, you'll end up benefiting from market corrections in multiple ways. It won't be painless or easy. But over the long haul, it can really pay off.
Try not to fret.