Yesterday marked the 8-1/2 year anniversary of the great bull market that is still going on. On March 9, 2009, the S&P 500 reached its closing low of 676.53. The previous Friday, March 6, 2009, the index touched its sinister-sounding intra-day low of 666.79. To give you an idea of how bleak things were, that morning the government reported that the unemployment rate touched a 25 year high, and the non-farm payrolls report for February, 2009, came in at a whoppingly awful minus 651,000.
Yikes!
But things are quite different today. Last Thursday's close of the S&P 500 Total Return Index showed a gain of 332.64% so far in this long bull market. That's enough to have turned any dollar invested into the S&P 500 Index, with dividends reinvested, into $4.32. Every dollar.  Quite a bit different from what would have happened if someone put money in a C.D. over the same period.
This has been one of the longest and strongest bull markets in history. Yet what's really fascinating to some of us is how hated it's been. And remains.  If not "hated," then disbelieved. Some people just can't stand to see the indexes rise higher and higher.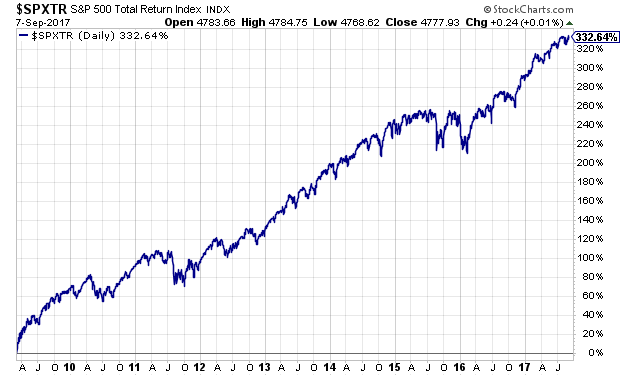 We're all constantly told by pundit after pundit that it's nothing but a reckless bubble that's going to crash any day now. Or, some say it's all due to the manipulations of the Fed; and when the Fed pulls back (which, by the way, the Fed began doing a couple of years ago), the market will come a-crashing down.
Give us a break, please.
Predicting that the world is about to end is one of the favorite pastimes on Wall Street and many conspiracy theorists.  Still, the bull market marches on. In fact, this year may turn out to be the least volatile year on record for the stock market.
If there's a golden rule for long-term investing, the kind of investing I want for those of us saving and investing for retirement, it's that betting on disaster is always overpriced, and betting on "it'll all work itself out" is always a bargain.
September, remember, remains the toughest month of the year for stock market returns. On average, the market falls a full percent or a little more each time September rolls around. And true to form, in the last month, the S&P 500 is down about a half percent. Not great, of course, but it's still up about 10%, year-to-date.  Again, much better than a CD.
August and September are the two roughest back-to-back months on the calendar. But beginning in November, we come into the best six month stretch of the year.
Don't pay attention to the day-to-day gyrations.  Don't listen to the many negative voices telling us that this is a bubble, the bull market is too old, it has to crash, and lots else like that. They don't know.  Nor do I.  There is no recession in sight yet.  Just stick to your knitting.
Does anything concern me?  If I could honestly seeing a recession coming.  Or, a strike on, or from, No. Korea. Each of those would upend the order of our lives and investing.  But we can't hide from things we can't predict or control or influence.
Hang on.  And have some faith.